Summer is a powerful season in Zion National Park and its world famous narrows are the prime attraction. Each year massive floods during the winter and spring run off periods rearrange the flow of the landscape. The scenery, including rocks, logs, and pools, is constantly changing. By the end of June, the Virgin River is normally a pristine, aquamarine icon as it weaves and carves its way through canyon walls glowing with color. Brilliant shades of gold, red, orange, yellow, pink, and blue mysteriously decorate its sides. This is landscape photography and adventure at is finest.
This is also a time when light is at its best. I'll have you in the right place at the right time to take home some stunning images of the area. We will visit Wall Street and Orderville Canyon and journey possibly far as Big Springs deep within the heart of the canyon. We'll examine compositions both up and down river. We'll begin in the morning when the light is soft, the scenery is peaceful, and the crowds are gone. We should have the place relatively to ourselves and the water will be at its clearest. We'll travel deeper into the canyon as the day progresses and I'll have you in position to capture the most dramatic scenery with the best light possible. Our adventure continues in the afternoon as the reflected light continues to shift in tantalizing colors. Every part of the day brings new and exciting photographic opportunities and you'll be there to experience them all!
Optimal Dates
Annual water levels fluctuate, however, trips can be completed anytime between the beginning of June through August in most years. The end of June and the first two weeks of July are optimal times for light.
What We'll Focus On:
• Using shutter speed for aesthetics in water flow
• Exposure bracketing and depth of field
techniques for slot canyons
• Using a polarizer to control reflections and glare
• Identifying optimal lighting and water flow
for photography in the narrows
Recommended Trip Length:
There is a two day minimum* requirement for this tour. It can be accomplished by two successive day hikes into the lower half of narrows, as an overnight backpacking trip through the entire canyon* or it can be combined with a trip to nearby Bryce Canyon (3 day minimum for both tours combined)
Meeting Location:
Springdale, Utah
Physical Demand:
Moderate to Strenuous. It is a one mile walk on pavement to enter the river and then an additional two to three miles one way to reach the most photogenic areas of the narrows.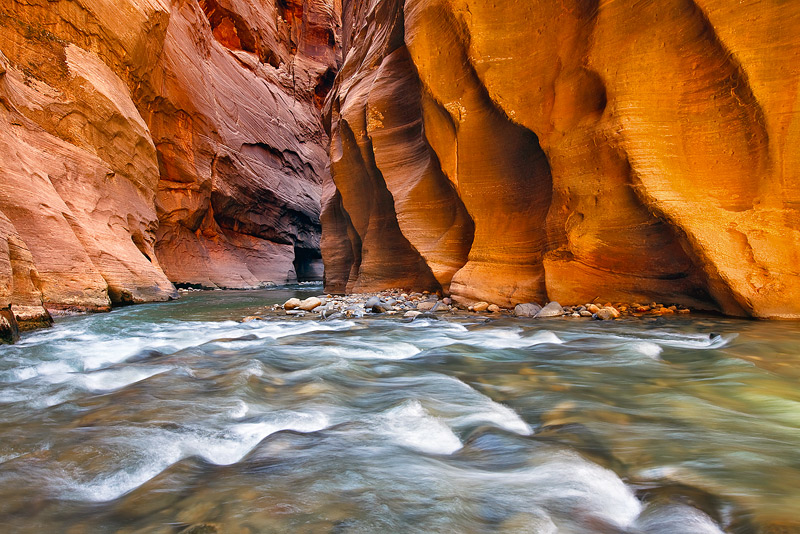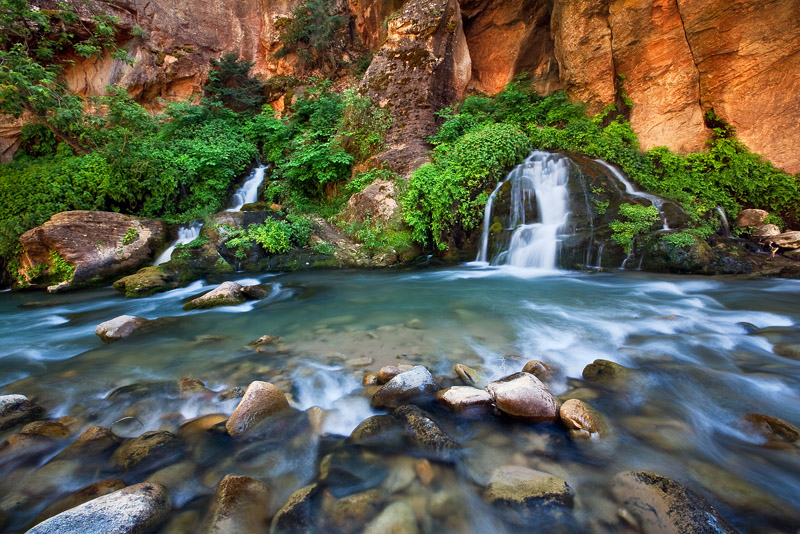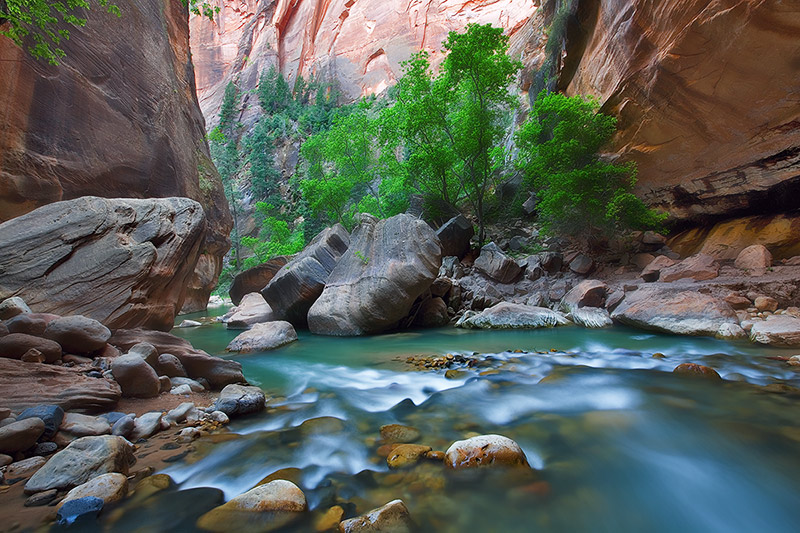 Details, Details, Details...
Please contact me prior to paying a deposit to discuss the following:
Confirm availibility for your selected start date (holiday weekends not recommended)
Arrange additional transportation from either Phoenix or Flagstaff (extra fee per person)
If you'd like to pay via personal check or money order
Interested in a private group tour of more than 3 persons
If you have any specific concerns about equipment, physical ability, or health related issues
*Please note an additional $60 travel charge applies to the overnight backpacking trip (per person) and also as one time charge for any tours to Zion lasting only two days
Deposit, Cancellation and Refund Policies
Security deposit is $150 applied towards the full cost of the tour
Deposits are fully refundable (less a $35 administration fee) 90 or more days prior to the start of the tour
Refunds to be issued within 21 days
Deposts are non-refundable less than 90 days before the start of the tour
Remaining balance due 45 days before the designated start date
If a cancellation occurs within 30 days before the designated start date, full cost of the tour is retained
If cancellation occurs all owed and paid fees can be transferred (at no extra charge) to the cost of an additional tour to be used within one calendar year (one time only)
Reservation Deposit