Artwork For Your Business, Home, or Office
We specialize in enhancing the atmosphere, value and morale of your business or office space with our original, fine art landscape photographs. They are ideally suited for hotels, offices, restaurants, and other corporate environments. We can help you create the perfect environment for your business needs, while providing your clientele or staff with inspiring and refreshing works of art.
Our fine art photographic prints are of superior quality and we strive for excellence in capturing and preparing our images. The size and scale, depth, level of detail and color accuracy are astounding. We guarantee we will meet or exceed your expectations with the exceptional quality of our prints and canvases.
Fine Art Prints
Our fine art prints are created using both InkJet and LightJet digital printers, considered the finest quality photographic printers available. Images possess unsurpassed sharpness and color. We use FujiFilm photographic paper which has the highest archival display life of any color photographic paper.
Framing and Matting
Custom framing and matting services are available for an additional fee. Prices vary depending on the size of the finished piece. Black is our standard, archival matt color. Please contact me for more details.
Images on Canvas
Your image is printed onto premium-quality canvas, sealed so it will not crack or fade, and then expertly stretched onto a 3/4 inch frame. Our standard color for the back frame is black. (We offer custom orders with over 30 different colors - please contact me for this option.) The final result is a non–glare, easy to clean, professional art piece at a fraction of the cost of traditional custom framing.
Besides the cost, another advantage of this mounting style is the matte laminate finish, which requires no glass or framing. No glass means no glare, and canvas mounted prints appear to be saturated in light and glimmer with color.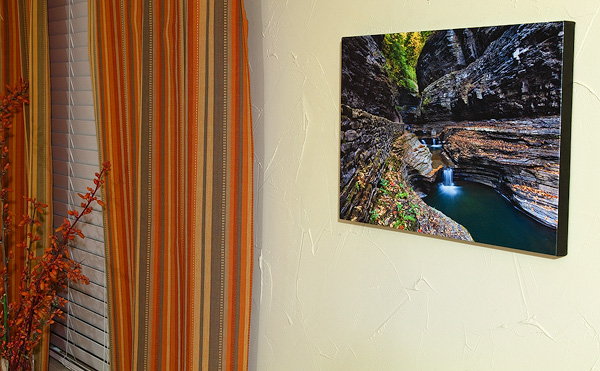 Shipping
All products will ship within seven business days, unless otherwise noted at the time of your order. All orders are shipped at no additional fee within the United States using standard ground shipping. There is an additional charge for international or expedited shipping orders. Please contact me to request a shipping quote for your country.
Quality Guarantee
We are certain that you will be pleased with the outstanding quality of our products. If for any reason you are not, we offer a full refund (not including return postage) for any product returned in new condition within ten days of receipt. All returns must be returned in the original or similarly durable and insured packaging. Any cosmetically flawed prints or any prints damaged during shipping will be replaced at no charge.