In a state known for its rugged topography, many consider the spectacular San Juan Mountains the finest. The fleeting days of autumn are a special time as snow sometimes accentuates the colorful scenery. This private workshop takes full advantage of the San Juan Scenic Byway, a beautiful road trip that circumnavigates all of the area's unforgettable mountain towns such as Telluride, Ouray, and Durango. We'll photograph the iconic the Dallas Divide, take in beautiful Woods Lake, study the colors at Owl Creek Pass and explore parts of the Weminichue Wilderness, the largest tract of wilderness in the state. Arguably, this is fall landscape photography at its finest.
Optimal Dates:
Varies annually. Season lasts between mid-September and mid-October with peak colors usually appearing around October 1.
What We'll Focus On:
• Developing your own vision through abstract compositions
• Best techniques for capturing depth of field
• Using light to accentuate mood and drama in the forest
• Composing and exposing panoramic grand scenic images
Recommended Trip Length:
3 - 7 days (3 day minimum)
Meeting Location:
Cortez, Durango, Telluride, Ouray, Montrose, Silverton
Physical Demands:
Easy. Some short walks at high altitudes.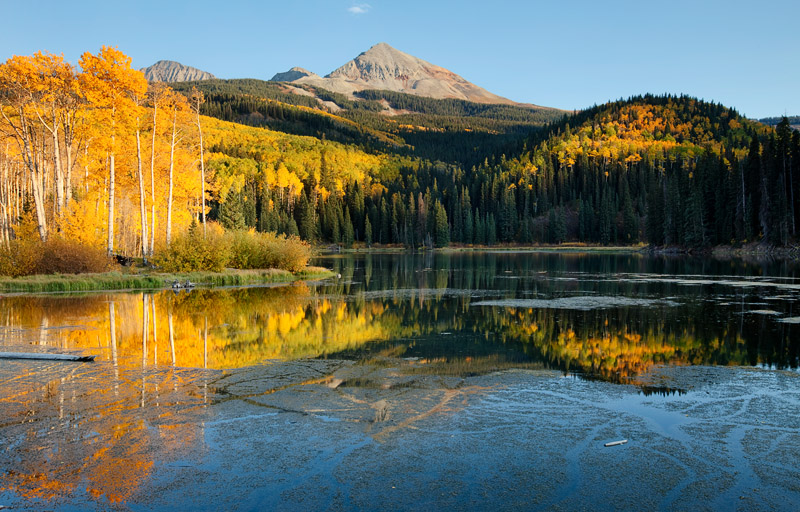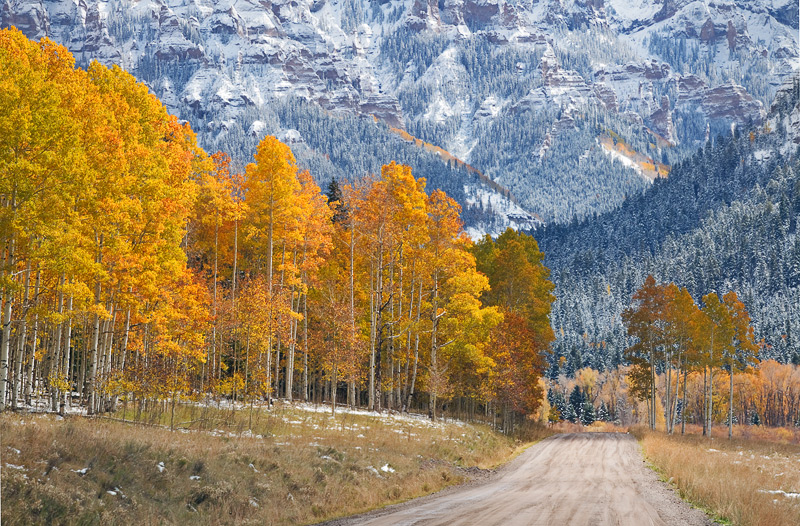 Details, Details, Details...
Please Contact Me Prior to Paying a Deposit to Discuss the Following:
Confirm availability for your selected start date
Arrange additional transportation from either Phoenix or Flagstaff (extra fee per person)
If you'd like to pay via personal check, money order or credit card
Interested in a private group tour of more than 3 persons
If you have any specific concerns about equipment, physical ability, or health related issues
This trip can be combined with the Colorful Personalities: New Mexico Badlands tour. Minimum trip length is 4 days to combine both tours.
More Information You Need to Know
Trips begin at sunrise and end at sunset
Your personalized trip itinerary including all the necessary information about the tour will be delivered to you within 45 days before your selected start date
Additional discounts apply for trips 5 days in length or longer
Deposit, Cancellation and Refund Policies
Security deposit is $150 applied towards the full cost of the tour
Deposits are fully refundable (less a $35 administration fee) 90 or more days prior to the start of the tour
Any refunds to occur within 21 days
Deposits are non-refundable less than 90 days before the start of the tour
Remaining balance due 45 days before the designated start date
If a cancellation occurs within 30 days before the designated start date, full cost of the tour is retained.
If participant needs to cancel all owed and paid fees can be transferred (at no extra charge) to cost of an additional tour to be used within one calendar year (one time only)
Reservation Deposit